Cochlear Science and Research Seminar on-line - Scientific results with the Slim Modiolar electrode
This recorded Cochlear Science and Research Seminar focusses on the design rationales, scientific research and clinical outcomes with Cochlear™ Nucleus® Implants with the Slim Modiolar Electrode.
The design rationales focus around atraumatic surgery and minimising the distance between the electrode contacts and the auditory nerve.

Scientific research focus on surgical approach, electrophysiologic & psychophysical measures and preservation of residual hearing.

Clinical outcomes focus on patient hearing perception performance.
The programme will be of interest to cochlear implant surgeons and audiologists and includes presentations and an interactive panel discussion.
Watch the recorded webinar here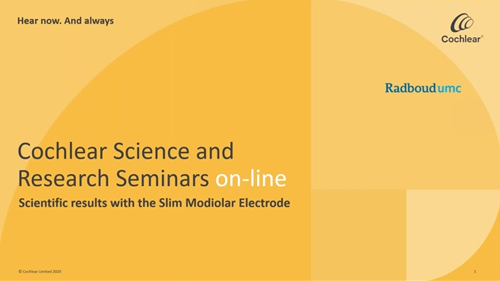 Agenda

Cochlear introduction
Dr Bart Volckaerts, Mechelen

Opening remarks, scope of the seminar and introduction of speakers
Prof Emmanuel Mylanus, Nijmegen

The design rationale story of the Slim Modiolar Electrode
Frank Risi, Sydney

Best surgical approach for best intracochlear position of the Slim Modiolar Electrode
Prof Susan Arndt, Freiburg
The influence of Slim Modiolar Electrode on residual hearing in paediatric patients
Dr Karolina Haber, Bydgoszcz
Electrophysiological outcome with the Slim Modiolar Electrode
- Part 1: New intra-operative electrophysiological measurements applied to the Slim Modiolar Electrode - an overview
- Part 2: Modiolar proximity benefits
Prof Ángel Ramos Macías, Las Palmas
Ass Prof Ángel Ramos de Miguel, Las Palmas
Stimulation thresholds in patients with Slim Modiolar Electrode
Prof László Rovó, Szeged
Outcome benefits with the Slim Modiolar Electrode
Prof René Gifford, Nashville
Panel discussion
Moderator: Prof Emmanuel Mylanus, Nijmegen
Conclusion and Q & A
Prof Emmanuel Mylanus, Nijmegen
Closure
Dr Bart Volckaerts, Mechelen